Energy Code 2021 Update Seminar
Monday, October 18, 2021 (2:00 PM - 4:00 PM) (CDT)
Description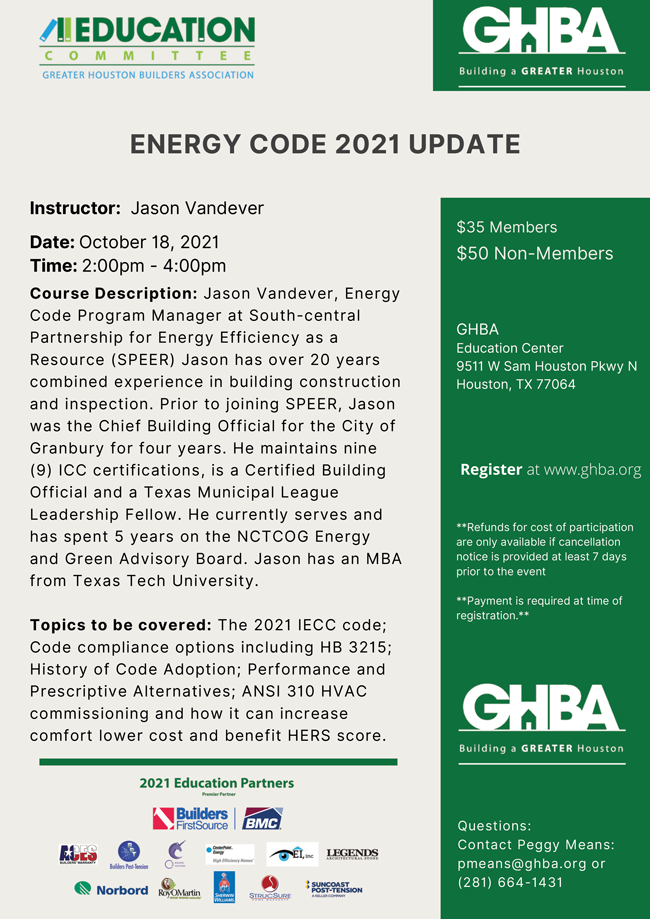 Instructor Jason Vandever, Energy Code Program Manager at South-Central Partnership for Energy Efficiency as a Resource (SPEER) Jason has over 20 years combined experience in building construction and inspection. Prior to joining SPEER, Jason was the Chief Building Official for the City of Granbury for four years. He maintains nine (9) ICC certifications, is a Certified Building Official and a Texas Municipal League Leadership Fellow. He currently serves and has spent 5 years on the NCTCOG Energy and Green Advisory Board. Jason has an MBA from Texas Tech University.
Topics to be covered: This seminar will cover Residential Changes in the 2021 Energy Code and State Law. We will look at the changes in the 2021 International Energy Conservation Code (IECC) as they relate to residential construction. Additionally, discussed will be HB 3215 and ANSI/RESNET/ICC 301. We will also cover how the State Energy Conservation Office (SECO) is currently interpreting HB 2439 and the timeline for state adoption of the 2021 IECC.
This two part seminar will also feature a panelist of experts on the following topics: HB3215 by Kathy Howard, Burgess Consultants; CBGC Summary Clayton Farmer Bluegill; ANSI 310 Benefits Mark Curry, Topbuild; ANSI 310 Summary by James Rodriquez, Fox Energy Specialist; Top 5 Energy Efficient Issues and solutions by Brannon King, DPIS Builder Services.
**Refunds for cost of participation are only available if cancellation notice is provided at least 7 days prior to the event.** **Payment is required at time of registration.**
Greater Houston Builders Association
9511 W SAM HOUSTON PKWY N



HOUSTON

,

TX

77064

United States



Monday, October 18, 2021 (2:00 PM - 4:00 PM) (CDT)
Time: 2pm to 4pm
Categories
Education Course